Healthy Super Bowl Menu? Yes!!!
Roasted Tomato Hummus Dip
4 garlic cloves
1 teaspoon salt
Two 1-pound 3-ounce cans chick-peas, drained and rinsed
2/3 cup well stirred tahini
1/4 cup fresh lemon juice, or to taste
1/2 cup olive oil, or to taste
1/2-1 cup roasted tomato
Add all of the ingredients to a food a processor and blend until smooth.
Lime Marinated Shrimp Skewers
1 pound of shrimp, deveined and shelled

Fresh lime juice (2-3 limes)

1 teaspoon of cumin powder

1 jalapeno, seeded depending on your tastes

Salt to taste
Directions
Mix, cumin powder, and jalapeno in small blender or food processor (can add mango for a tropical flare)

Skewer the shrimp and cover with the half of the marinade. Allow the shrimp to marinade in the fridge for a half hour.

Cook until shrimp are pink in color and top with the rest of the marinade
Serves 4-6
Healthy Buffalo Style Chicken Wings
3 pounds drumettes and wings
Kosher salt and freshly ground pepper
1 tablespoon butter
6 sprigs fresh thyme
10 garlic cloves, crushed
3/4 cup hot sauce
For blue cheese dip:
1 cup low-fat Greek yogurt
1/2 cup blue cheese crumbles
Scallions to garnish
Preheat oven to 375°F, and lightly grease an oven-proof pan.

In a large bowl, generously season drumettes and wings with kosher salt and freshly ground black pepper.

In a sauté pan over low heat, melt butter. Add thyme and garlic and allow to simmer for 3 minutes. Once thyme and garlic become aromatic, add hot sauce and stir.

Pour entire mixture over chicken and toss to coat. Allow wings to marinate in the fridge for about 30 minutes.

Meanwhile, combine blue cheese and low-fat Greek yogurt in a small bowl. Mix well, and refrigerate.

Transfer chicken to oven-proof baking dish and place in oven. Bake for 30 minutes; with tongs or a fork, flip and baste wings.

Bake for 25 minutes more, occasionally basting wings while they're in the oven.

Remove pan from oven, and allow wings to slightly cool in pan. Baste with juices, and serve with blue cheese dip!
Serves 6.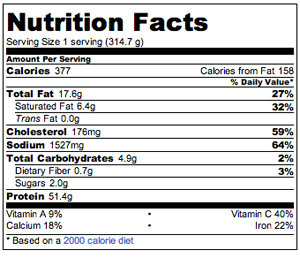 Source:
Calorie Count
You can eat alone, with baked chips/crackers, or
add to your chili! YUM!
Quinoa Black Bean Avocado Salad
Ingredients
:
3 cups quinoa, rinsed and drained
1 15-oz can black beans, rinsed and drained (or 2 cups cooked black beans)
1 pint cherry or grape tomatoes, halved or quartered
1 cup fresh cilantro, chopped (more or less according to your taste)
2 fresh avocados, pitted, peeled and diced
Fresh lemon juice to prevent avocado from browning
Sea salt and black pepper, to taste
Juice of 4 limes
Zest of 1 lime
Dressing
:
1/4 cup extra virgin olive oil
1/4 cup white vinegar
2 or 3 cloves garlic, minced
Sea salt and pepper, to taste
Instructions
:
1. Prepare quinoa according to package directions. While it is cooking, prepare the remaining ingredients.
2. In a large mixing bowl, combine beans, tomatoes, and cilantro.
3. Dice avocados and drizzle with lemon juice. Set aside.
4. Combine all dressing ingredients in a bullet-style blender. Pulse until garlic is incorporated and dressing appears creamy. Set aside.
5. Fluff quinoa with fork and add to bean mixture. Season with salt and pepper. Add lime juice and zest; toss to combine. Top each serving with avocado pieces and dressing.
This served four adults generously, with one portion leftover for my lunch. We didn't use all the dressing, but it was nice to have the extra on the side for those who wanted it.
Nutrition information per 1-cup serving:


Calories - 293
Fat - 12g
Saturated fat - 1g
Carbs - 39g
Fiber - 6g
Sugars - 1g
Protein - 9g
Sodium - 59mg
Cholesterol - 0mg
Smoked Pumpkin Chili (Vegan)
1 medium to large cooking onion, chopped

3 large cloves of garlic, chopped

1 tablespoon olive oil

2 cans (or one large can) of dark kidney beans, drained and rinsed.

1 can of low-sodium corn kernels, drained and rinsed

1 large (28 ounce) can whole peeled tomatoes, keep the juice

1 can pumpkin puree

1 cup vegetable broth (or beer of choice)

1 tablespoon smoked paprika (or regular)

1 teaspoon black pepper

1/2 to 1 teaspoon salt

10 to 15 sage leaves (optional)
Directions:
In a large saucepan, heat the olive oil over medium-high heat and add the onions and garlic. Cook until onions are tender.

Pour in the pumpkin puree and vegetable broth (or beer). Mix. Pour in the can of whole tomatoes (with the juice). Mix again.

Then add the kidney beans and corn kernels. Season with the paprika, black pepper, and salt.

Bring mixture to a boil, stirring occasionally. You'll want to use a spatula or mixing spoon to crush the whole tomatoes a bit. Keep them chunky, but try to crush each one a couple times to distribute evenly.

Then lower the heat to a simmer and cover. Cook for 45 minutes. Again, stir occasionally.

Add in the sage leaves (I rubbed mine a bit with my fingers to get the flavor out before dropping into the pot). Cook at a low simmer for another 15 minutes.
Never Fail Must-Haves:
Veggies are always a perfect snack, fiber rich & filling
Fruit Platter for a Sweet Treat
BUT--I'll give one recipe for a sweet treat without TOO much guilt! ;)
Dark Chocolate Gluten and Dairy-Free Cupcakes
Makes: 12 Cupcakes
1 C red beets, pureed until smooth (can use canned beets or fresh beets, washed, peeled, boiled until fork tender, then pureed)
1 cup XyloSweet or Truvia natural sugar substitute
1 C unsweetened almond milk
1 teaspoon vanilla extract
2 cups all-purpose gluten-free flour
½ C dark chocolate cocoa powder
½ C dark chocolate chips (at least 70% cocoa powder)
8 oz. vegan cream cheese, softened
½ C Cauliflower, washed, steamed then pureed until smooth
½ C XyloSweet or Truvia natural sugar substitute
1 teaspoon vanilla extract
Unsweetened shredded coconut (optional)
1) Preheat oven to 375 degrees F. Line 12-cup muffin tin with paper liners or coat with non-stick cooking spray.
2) In a large mixing bowl or stand up mixer, combine beet puree, sugar substitute, almond milk and vanilla. Beat until smooth. Add in egg whites and gently fold in.
3) Add gluten free flour, cocoa powder, dark chocolate chips, baking soda and salt and mix until well combined and no visible lumps.
4) Divide mixture evenly into muffin tin, taking care not to overfill. Bake for 20 minutes or until toothpick comes out of center clean. Allow to cool on a baking rack.
5) While cupcakes bake, combine frosting ingredients together and beat until smooth and airy. Once cupcakes are completely cooled, smooth frosting over the top. Top with fresh fruit, as desired.